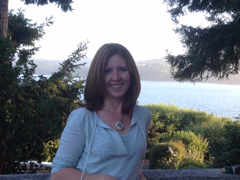 A native Californian, Taryn Koch developed a love of the choral art at an early age.  Through the years, her passion for the art was nurtured by the work of inspired teachers and directors from her elementary school years through college, and she is now dedicated to sharing that love of music with her own students at Chaparral Middle School in Moorpark, California.  In addition, Taryn also served for many years as an associated director at the South Bay Children's Chorus in Torrance, California.  She firmly believes that the choral art is transformative, especially in a young person's life, and strives to give as many children as possible the opportunity to discover the depth of their own artistry and wonder for beautiful music.
Taryn graduated from California Lutheran University in 1998 with a Bachelors of Arts in Music and earned her teaching credential in 1999. Married to fellow Areté member, Sterling Koch, Taryn's greatest joy is spending time with her husband and her two precious boys.
Taryn feels privileged to be part of Areté.  For someone who spends a great deal of each day on the other side of the podium, singing in Areté is "soul food", and she hopes that our audiences are equally as blessed as they enjoy each performance.