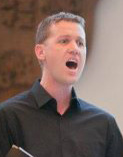 Sterling learned a love for choral singing at Santa Rosa High School, under the direction of Dan Earl. He earned a bachelor's degree in Vocal Performance at the Wheaton College Conservatory of Music, where he learned that process is as important as product (especially in singing), and has pursued graduate studies in the arts and theology at Fuller Theological Seminary in Pasadena, where he learned all sorts of things.
He has been a frequent soloist with various ensembles and churches throughout California and in the Chicago area, and was choral director at St. Mark's Episcopal Church in Geneva, Illinois. Sterling is a founding member of the Arete Vocal Ensemble and has been a frequent soloist in their performances of works ranging from Bach and Bernstein to premieres of new works.
Creating things of beauty and interest is his second love, eclipsed and encompassed by his greatest affection: sharing life with co-Arete member Taryn Koch and their two children. For Sterling, that need to create is best substantiated by the singing of good songs, followed closely by woodworking and backpacking.