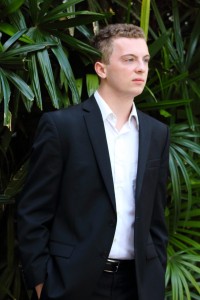 Chris Nolan is a recent graduate of University of Miami's Frost School of Music, earning his degree in Music Composition. Born and raised in Columbus, Ohio, he is a new resident of Los Angeles; in addition to his membership in Areté, he currently sings as a section leader at Church of the Good Shepherd in Arcadia. During his time at Frost, Chris was a member of the Frost Chorale and the Frost Opera Theater Chorus, as well as an active choral singer in the greater Miami community.
In addition to his vocal experience, he is a composer and enthusiast of new music, taking inspiration from a vast array of traditional, popular, and experimental idioms. He won the 2018 Duino Prize at the International Music Festival of the Adriatic and was a finalist in the 2015 New American Voices Song Competition. He also has a strong background as a pianist, winning the Louis Armstrong Jazz Award as a high school senior and playing with jazz bands around Columbus, and as a brass player, starting in high school and continuing on to the UM Band of the Hour Marching Band and Pep Band.
Chris is currently employed as the shipper at British Audio Engineering, manufacturer of high-end recording equipment. Outside of music, Chris has worked extensively as a private and classroom instructor for SAT, ACT, and mathematics, and he is an avid runner, recently completing his first marathon as well as four half-marathons.