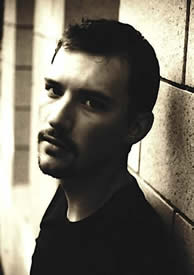 Bass-baritone Chris Feist is thrilled to be back performing with the Arete Vocal Ensemble again. He began his artistic studies at the age of 14, participating in vocal competitions and private recitals, public school drama and speech/debate, and even the odd professional acting gig from time to time.
It was this passion for the performing arts that lead Chris to earn his Bachelors of Music degree from Luther College in Decorah IA. During his undergraduate studies he was honored to work with the likes of world-renowned conductor Weston Noble, professional soprano Carla Thelen Hanson, and master choral conductor Dr. Timothy Peter. It was also at this time that Chris focused his skills on vocal and instrumental Jazz music, even directing the student led Vocal Jazz ensemble at the university.
Some of his notable stage performances include South Pacific, The Mystery of Edwin Drood, Le Nozze di Figaro, Secret Garden, and Grease.
In the summer of 2003, Chris was accepted into the apprentice program at the Austin Lyric Opera, participating in master classes and vocal instruction from some of the most celebrated artists and coaches in the area.
Mr. Feist realized a strong passion for teaching while directing his own private voice studio for several years in the Minneapolis/Saint Paul area. He is currently offering his vocal and piano talents to the Praise Alive worship band at Ascension Lutheran Church in Thousand Oaks, CA. In his spare time, he enjoys composition, playing piano and guitar, and training for his next marathon.